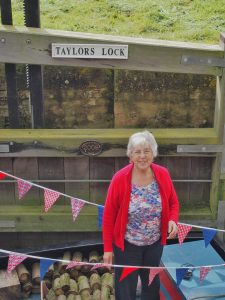 It is with extreme sadness that I have to report the death, on September 25th, of Pat Taylor. For decades Pat has been an integral part of the Sleaford Navigation Society and the later Sleaford Navigation Trust. As a committee member with special responsibility for sales she has indeed been the smiling face of the Trust behind the sales stand at events both national and local.
Pat's late husband Derek was an early driving force in the move to restore Bottom Lock to navigation and their boat, Wigford, was the first to pass through the lock at the official opening. Later renamed Taylors Lock, this has always been a special place full of memories for the family and so it remains. Who could forget the work parties there where Pat weeded the garden and often turned her attention to tending a bonfire to burn the trimmed tree branches. On one occasion she complained all day that the fire just refused to burn properly only for us all to see it spring into life just as Wigford was leaving at the end of the day! A hasty winding and return ensured all was safe! There were picnics and birthday celebrations there with rope swings over the river to be enjoyed by grand-children and others. A special place indeed.
Pat will be remembered for her enduring enthusiasm for boating and for the restoration of the Sleaford Navigation but there is so much more. An integral part of the December committee meeting was the celebration with a glass of wine and one, or maybe more, of Pat's amazing mince-pies. Bric-a-brac on the sales stall had to be arranged, and adjusted, as Pat wanted it to be. Anyone who had the temerity to move stock themselves would be given a glance which would make sure they didn't do that again. Things had to be done properly. For so many, my children included, she was Grandma Pat and she will be remembered fondly and missed.  I know that many members of SNT, IWA and beyond will join with me in sending condolences to her daughter Sue, son-in-law Mel and grandchildren Tom, Ellie and Ed. We have lost a good friend, a lovely lady.
Chris Hayes